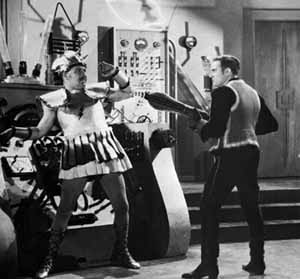 Quite by accident I stumbled upon a great huge treasure trove way back in issue 4 of the online film journal Images.
Gary Johnson has written a collection of extensive illustrated articles, beginning with "The Serials: An Introduction," a five-part series covering the history of serials from 1912 through their ultimate demise in the mid-'50s.
This is followed by detailed summaries of ten of the great serials, including Phantom Empire, Flash Gordon (tho only the first one), Zorro's Fighting Legion, Spy Smasher, and many others.